The Ross Trust has granted $120,000 over three years to a program which will use speech pathology to improve oral language of children, so they are ready to learn when they start school.
The No Limits program, funded in partnership with the Mornington Peninsula Foundation, brings together five primary schools and their feeder kinders from the most disadvantaged areas of the Mornington Peninsula. The schools have identified poor oral language as the most pressing barrier to successful engagement of children in learning.
In an area which has significant disadvantage, with one in four households earning less than $26,000per annum and one in seven children living below the poverty line, many children arrive at school with severe oral language delay. They don't have the capacity to pick up the literacy and numeracy skills to help them out of this cycle of disadvantage.
Principal of Crib Point Primary School, Tina Coumbe, says No Limits is helping her students build crucial oral language skills and is the most exciting project she's ever been involved with.
"Imagine what it would be like as an adult if you lost your voice for an extended period? Imagine not being able to communicate your needs to people? Unfortunately, some of our students face this daily and this project is without a doubt, the best solution to help them overcome these barriers.
"Oral language capacity is the fundamental skill students need to have their own 'voice', be able to communicate with others and communicate their needs and wishes. The earlier we support this learning, the better," Tina says.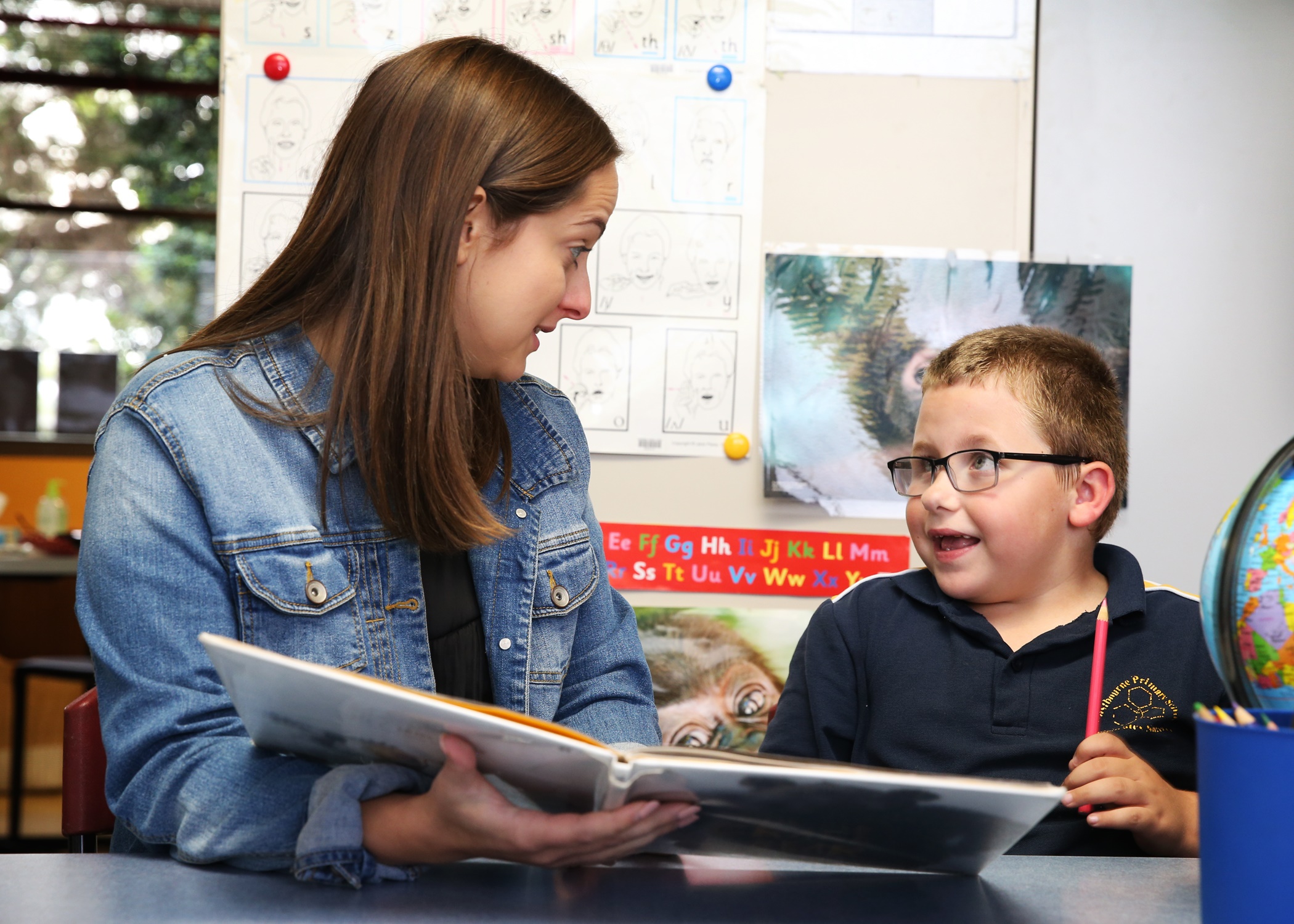 Teacher and student from Tyabb No Limits program. Photo by Tanya Fry.
Over three years, No Limits will provide high quality speech therapy to all children in prep and kinder at Tyabb Rail, Crib Point, Eastbourne, Wallaroo and Mornington Park Primary Schools.
Approximately 250 students – boys and girls aged 4 and 5 years old – will go through the assessment in the first year with a further 125 students from Years 2 and 3 taking part.
The three stages are assessment, implementation of individual treatment plans and evaluation that compares base and end line data and treatment versus control.
Along with the assessment and individual intervention plans developed by the speech therapist, the funding will help cover the cost of a teacher's aide in each school, who will have responsibility to implement the interventions and will build this into the day's classroom activities. Training and skills development of the teachers' aides and the prep and kinder teachers will be part of the program.
"To know that so many students are getting access to this incredible opportunity is simply amazing. If you can imagine oral language as the house foundation, everything else (reading, writing) is built on top of this. If we get this right in the beginning, it makes the house much easier to build. Also, early identification of any concerns gives us a much longer time frame to be able to put interventions into place," Tina says.
"It is exciting to know that there are so many wonderful people committed to this project and giving our students the best start in their education."
Along with improved oral language capacity for the start of school, the expected outcomes of the program include an increase in social interaction, sense of self-worth, cognitive abilities and emotional regulation. Parents will also be engaged in the program and their child's learning where possible.
"Our parents have become more involved by meeting with the speech pathologist and going through their child's report. They then discuss what things can be done at home and school to furthersupport their child. Our parent community has been incredibly responsive and engaged with this process."
It is expected that increasing a child's capacity to learn to read and write at appropriate levels – to communicate effectively – will naturally lead to a greater capacity to express themselves, deal with conflict and challenges, and reduce behavioural problems in the classroom. This deeper engagement and participation in learning should increase the chances of staying at school and completing a full education.
This grant is part of an ongoing commitment to from the Ross Trust to addressing inequity on the Mornington Peninsula and builds on similar work being done by Eastbourne Primary School.
Photo: students from Crib Point Primary School